Travel Information for English-speaking participants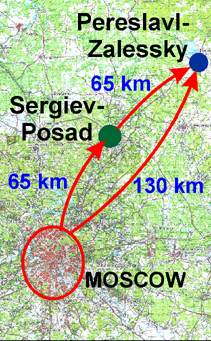 Dear Foreign participants, especially for you we'll organize the buses from Moscow to Pereslavl-Zalessky.
Our buses will be waiting for you in the airport according to the time-table of your arrival time. Please, inform us about it as soon as possible. (e-mail Organizing Committe)
Detalised information for Russian-speaking participants can be found on the Russian participants travel page
If you are not met in airport for some reason you have some variants how to reach Pereslavl without our assistance. Look at the following scheme. There are three main points on the way: Moscow, Sergiev-Posad, Pereslavl-Zalessky, and there two ways:
directly from Moscow to Pereslavl-Zalessky;
from Moscow through Sergiev-Posad to Pereslavl-Zalessky
In any case we recommend you before you take an action first to contact the organizers.
Directly from Moscow to Pereslavl-Zalessky
In this case firstly you should reach Metro "Schelkovskaya" (the last station of the Arbatsko-Pokrovskaya line) where the Schelkovsky bus station is located, from which you can reach Pereslavl-Zalessky. All the routs to Pereslavl are from the second platform.

The ticket cost is about 160 rubles.

If your bus goes through Sergiev-Posad then it takes about 3 hours, if it's a direct rout only 2 hours and 30 minutes. The bus arrives to Pereslavl bus station.

See also: Time-table of the buses Moscow-Pereslavl
From Moscow through Sergiev-Posad to Pereslavl-Zalessky
A. From Moscow to Sergiev-Posad
To get Pereslavl-Zalessky you should go with train from "Yaroslavsky railway station" (the Metro "Komsomolskaya") to the city of Sergiev-Posad. The trains left Moscow for Sergiev-Posad approximately every 20 minutes.
See Time-table of the trains Moscow – Sergiev-Posad
B. From Sergiev-Posad to Pereslavl-Zalessky
In Sergiev-Posad our buses to Pereslavl will wait for you in parking, located near station (see the scheme below). Parking can be better reached from the last carriage of the train. The time of the departure of our buses from Sergiev-Posad: 15.10.2007, 14:00, and 19:00. The buses will convey you to the hotel in Pereslavl-Zalessky.
If you will not use this opportunity, you should get Pereslavl by bus from bus station of Sergiev-Posad (see the scheme below). The time on way is 1 hour and 30 minutes. The ticket cost is about 80 rubles. The bus arrives to Pereslavl bus station. However we don't recommend you this variant because of possible tickets absence.
Also to reach Pereslavl-Zalessky (at once the hotel) you can order a taxi to parking near Sergiev-Posad Railway Station (it's wise to call in advance, right away when you depart from Moscow). The time on way is about 60 minutes. This service costs 800 rubles. To order the taxi, please use the following telephones: +7 903 822 84 55, +7 903 826 81 41.
If you'll choose this variant, please, inform us, the twenty-four hours tel. number till September 09, 2007, is +7 903-638-99-98!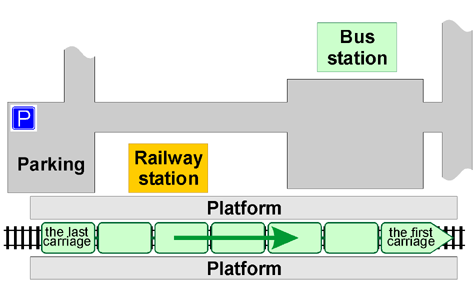 From Pereslavl Bus Station to Hotels
There are two ways you can choose for getting the hotel:
Taxi costs about 50 rubles;
The city bus costs about 10 rubles.
A taxi-park and city buses are situated near the bus station. With taxi it takes 5-7 minutes or so to get hotels. Phones to order taxi: +7-48535-30303, +7-48535-30302, +7-48535-30301, +7-48535-34433.

Using city bus number 1 if you're interested to get the center of the town, in particular the bus stop "Simeonovskaya Church" (It's the first stop after a bridge, look at the place "Stop" at the scheme). In order to get this place you go with the city bus during 15 minutes.