Important Data
Conference fees
Foreign participants - 350 EUR

Accompanying persons - 150 EUR

Russian participants - 1500 Rubles
Bank details
The RCDL-2007 registration fee should be remitted on the account of the Organizers in SBERBANK.
Please, use the following bank requisites:
Bank mediator: DEUTDEFF
DEUTCHE BANK AG
FRANKFURT
ACC 9498726
Bank recipient: SABRRUMMYA1
SBERBANK (SEVERNY HEAD OFFICE)
BR 7443
PERESLAVL
ACC 30301978477010607718
Transit account: 40703978777180200003
Account: 40703978877180100003
Organization: University of Pereslavl
Venue
Pereslavl-Zalessky (Pereslavl beyond the wood) is one of the ancient cities of central Russia. Prince Yury Dolgoruky founded the town in 1152. Here, on the bank of Pleshcheevo Lake, in 1693, young Peter the Great constructed a make-shift fleet which became the prototype of the first Russian fleet on the Baltic Sea.

Located away from the rush of the big city, Pereslavl harbors the special charm and fascination of the Russian provinces It is famous for its unique monuments of architecture, history and nature.

The conference will take place at the Program System Institute of the Russian Academy of Science, which is known for research in a number of areas including artificial intelligence, multiprocessor systems, medical informatics, system analysis, control processes and various telecommunication problems. Pereslavl University

You are supposed to stay at the hotel "Pereslavl". We ask you to contact with us about your wishes as soon as possible.

Hotel "Pereslavl"

Address:
Hotel "Pereslavl"
st. Rostovskaya, 27 Pereslavl-Zalesskiy, Yaroslavl region, Russia
Tel:
(+7 48535)3-17-88;
(+7 48535)3-26-87;
(+7 48535)3-15-59
E-mail:
marketing@hotel.pereslavl.ru
www:
http://hotelpereslavl.ru/indexeng.htm

Rooms & Services

Four categories of rooms (prices include breakfast):

| | | | |
| --- | --- | --- | --- |
| | | Number of Persons | Room Price |
| 1 | Luxe | 2 | 3000 Rubles |
| 2 | Half de luxe | 2 | 2600 Rubles |
| 3 | Studio | 2 | 2100 Rubles |
| 4 | Standard | 2 | 1800 Rubles |

Hotel services:

On the first floor of the hotel is located the Business and Service Center. It offers the following services: copying, printing, faxing, computer usage, and Internet services
West Hotel

Address:
"West Hotel"
1-A Plescheyevskaya Street, Pereslavl-Zalessky, 152020 RUSSIA
Tel:
+7-(48535) 34378
Fax:
+7-(48535) 34395
E-mail:
info@westhotel.ru
www:
http://www.westhotel.ru

Rooms & Services

Three categories of rooms:

| | | | |
| --- | --- | --- | --- |
| | | Workdays | Weekend and holidays |
| 1 | 5 Single room | 2180 Rubles | 2380 Rubles |
| 2 | 5 Double room | 2830 Rubles | 3080 Rubles |
| 3 | 1 Suit | 4850 Rubles | 5550 Rubles |

Hotel services:

wireless Internet (for clients with "notebooks")

international calls, fax, copy machine

continental breakfast

parking

nfrared sauna

roll-in cot

laundry and ironing

tour guide

dinner
Conference halls
The conference will take place in the Program System Institute. You can see some the conference places on the map below: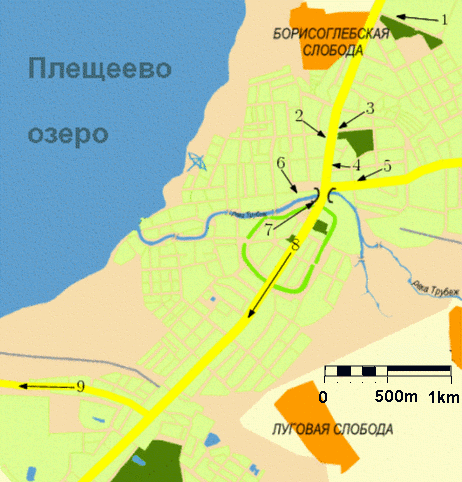 Restoraunt "Navigator"
Hotel "Pereslavl"
Cafee "Visit"
The bus stop "Center (Semyonovskaya Church)"
University caffee
Hotel "West"
Pereslavl University main Building (aud. 1, 3; hall)
Road to Moscow (140 km)
Road to Program System Institute (4 km)
The talks in PSI RAS will be held in two blocks of the institute building:

The Blue hall is on the top floor of block 1 and others are on the 2-nd floor of the block 2.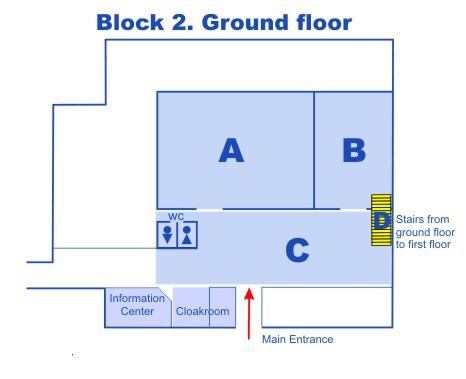 A -- conference hall: sessions of the conference
B -- dinner hall: lunches
C -- foyer: coffee breaks, exhibitions, posters session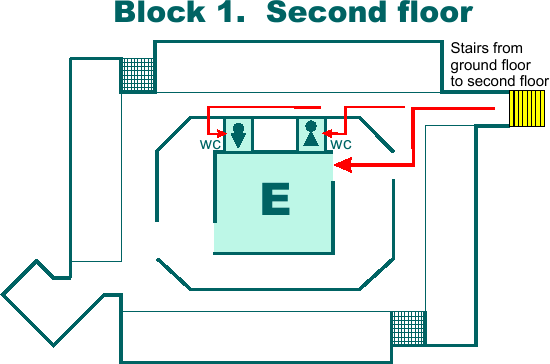 Russian visas
Unfortunately, many countries require Russian citizen to obtain visa to enter. Symmetrically, citizens of these countries need Russian visas to enter Russia.
For visa support, you should send an e-mail letter with the subject "VISA" to contacts@rcdl2007.pereslavl.ru with the following personal data required by the consulate:
First and last name, as it is stated in international passport
Date of birth
Place of birth
Sex
Country of citizenship
International Passport:

Number
issuing authority
date of issuing
expiration date
scanned copy of the first pages (with data and photo)

Home address
Organization (name, postal address, phone, fax)
Scientific degree
Occupation
Title and position
Spoken languages
Aim of visit
Your previous visits to Russia (When?)
Accompanying person (if wife, her maiden name too):

Last Name
First and Middle names
Date of birth
International Passport:
Number
Issuing authority
Date of issuing
Expiration date
scanned copy of the first passport page (with data and photo)
Country of citizenship
Home address

Proposed date of arrival
Proposed date of departure
Places to visit in Russia (up to 6)
Tel. and FAX numbers
Place of getting Russian visa (country, city).
Note! Only cities where Russian consulates are situated should be indicated. Also you need to have the medical/life insurance. Please, do not hesitate to contact us for any information you might need.